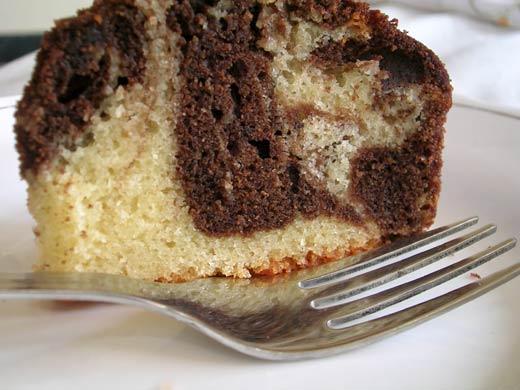 Marble cake is one of the most delicious results of love-baking that looks complicated but is easy to make. Here is a quick and easy recipe to get you started on making this simple, moist, and yummy marble cake.
Ingredients for Marble Cake
225 gms flour
225 gms butter (this is going to give you one sinfully heavy cake)
225 gms sugar (can be lesser)
4 Eggs
50 gms cocoa powder (good quality – never compromise here)
1 tsp baking powder
2 tsp vanilla
1/2 tsp instant coffee powder
50 ml milk (for the purpose of making the batter consistent)
Set your oven to 180 degrees centigrade. Grease and dust your baking tin.
Soften butter and beat in sugar.
Whisk eggs seperatly and add the eggs to butter+sugar gradually while beating it.
Sieve in flour and baking powder into the butter-sugar-egg-vanilla- coffee-mixture. Fold in the flour gently.
Divide the batter into half. Add cocoa powder to one half.
Take spoonfuls of two batters and put them in the baking dish. Alternate the vanilla and cocoa batter heaps.
Use a skewer or something similar to insert and gently swirl it around for marble like pattern. Few swirls are needed else the mixture will become uniformly brown.
Bake for about 30-40 minutes, or till the skewer comes out clean.
Enjoy.
Long long ago I had disastrous marble cake baking episodes. And ended on the wise note that it is not worth going through the chore when all you need is a bit of vanilla cake and a bit of chocolate cake side-by-side and eat it happy. But over a period of time, with more marble cakes attempted, swirled and baked, I have arrived at the most simplest way to do it. I can call this a time-tested and repeatedly tested recipe. It calls for no fuss and no patience – just the way Rachel Allen did it.
If you are into baking regular cakes, then its no different from what you are doing all the time. Just one extra step of throwing in spoonfuls of batter and swirling it aroud with a skewer till you get the pattern light and right.
If you have mastered this cake, it calls for stepping this recipe up to another level. By using bitter chocolate, coffee, cinnamon, sour cream and more, you can get a much richer and delicious version of this marble cake. Check out my justifiably complicated recipe for delicious marble cake and let me know how your baking attempts went.