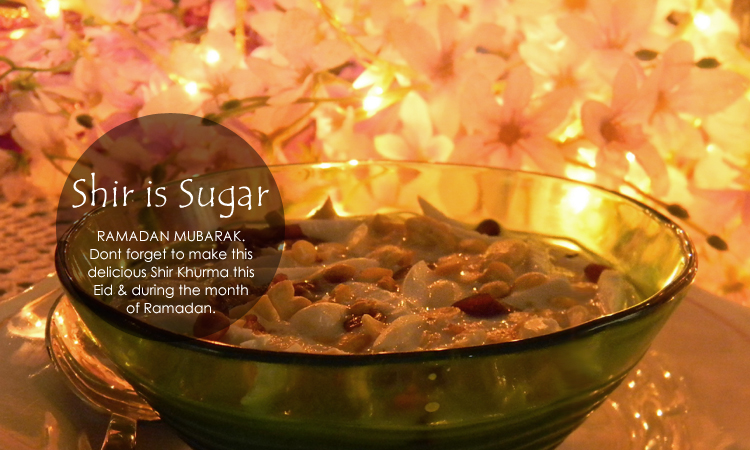 Eid in Hyderabad is not complete without Sheer Khurma. After haleem and biryani, Shir Khurma overdose lingers on a little longer as it is continued to be served for days to come.
Legend has it that the recipe for sheer khurma was imported to India during the Mughal rule and has ever since been a part of the Dhakni culture and tradition. Sheer Khurma has nothing to do with religious practice. It is purely a regional tradition of making something sweet for the special occasion of Eid-ul-Fitr. Since dates are of special significance during the month of Ramzan, these are integrated in a creamy and tastier form on the day of Eid.
There are many names to this dish ranging from sevaiyyan, semiya, sheer qurma, semiya pudding, vermicelli pudding, and what not. Hyderabadis have always known it best as shir qurma. This dessert is made with equal frenzy and love in Pakistan and that is one thing I would love to taste.
Our grandparents once told us that the word shir was derived from the word shireen which meant sweetness and always stressed upon being shireen-zubaan (sweet language) in dire situations too. Eat sweet and speak sweet; that's all I remember about the dish. I thought khurma meant gravy until Google clarified as dates aka khajoor.
Shopping for sheer qurma in this city is an event by itself. The moment the moon is sighted, the market reaches its highest crescendo. No matter how much you plan in advance and sort things out for the festival, there is always something that will make you step out into the festive air.
The energy is infectious. The traffic is horrible. The policemen are fretting and frantically swearing. Anywhere you turn to, there is vendor screaming at the top of his voice. You are partially deafened. And the pick-pockets are right beside-behind you.
But you still want to go out.
For there is no stopping you for that last experience of the frenzy that surrounds, for that last plate of haleem, maybe that last visit to the Charminar (even if there was nothing left to buy), the steaming hot chai, the shouts and screams, the jaw dropping discounts offered…. and all this while you or your loved one is trying to save the intricate mehendi on both hands from getting smudged. You don't want to come back home soon for more work waits.
Dry fruits would be bought only from the friendly neighborhood dava-saaz ki dukaan for it was believed that they had the most authentic ingredients. Semiyan is picked up from the makeshift stalls along the road followed by fresh milk, chicken, mutton, veggies and so on for that rich biryani. Sometimes Khobani ka Meetha is also included in the festive menu.
You are quite lost and loving every moment till you remember what you had stepped out for. And that brings me back to the recipe for sheer khurma, the traditional Hyderabadi way.
My method of cooking is not measured so given below are nearest estimates. You will have to tweak the proportions to make it work for you. You can add or remove the quantity of ingredients to suit your taste and style. Some like it thick with more vermicelli and some prefer it milky. That is why most of the dry fruits and milk are served additionally, to customise the dish.
Ingredients for making Sheer Khurma
Pure Milk – 1 litre

Sugar – 1 cup or as per taste

Vermicelli – Semiyan – Sevaiyyan – 1/4kg

Pure Ghee – ¼ kg (or just enough for frying the vermicelli into light golden brown)

Cardamom – 3 pods.

Dry Fruits such as almonds (badam), cashewnuts (kaju), raisins (kish mish), watermelon seeds (tarbooz ke beenj), musk melon seeds (kharbuze ke beenj), charoli (chironji), pistachios (pista), etc. Use what you like and as much as you want to for the final dressing.

Dates – Dry or Raw, for dressing.
How to make Shir Qurma
Break the semiya into manageable size. Fry this vermicelli or semiya in a thick bottomed dish in ghee on medium-low flame. The color of the vermicelli should be light golden brown and even. Keep it aside.

Bring milk to boil and stir continuously to reduce the quantity. Add sugar, powdered cardamom and stir.

Add the semiya to the milk and stir for few minutes till it is soft and cooked. Don't overcook.

Before serving, top it with the nuts, raisins, dates and maybe a speck of ghee.

Serve this as you like – hot, warm, room temp or chilled. Since it has ghee, it is better to avoid the colder version.
My Notes:
To make the dish creamier or tastier (we will never talk about calories here), you can take more milk and boil to reduce the quantity. Some recipes call for addition of condensed milk for shortcuts.
The nuts are generally prepared the previous day/ night. They are soaked for couple of hours to easily skin and sliver, before roasting.
The key to bringing out the flavor of nuts is to roast it right. All the nuts need to be roasted in low flame till they change their color and give out their flavored fragrance. Most people deep fry the nuts in the ghee and this works great too. Never over fry or darken the nuts.
In good old days, the dried dates would be soaked overnight to soften them. Now, with Mediterranean dates available in every nook and corner, the concept of soaking and waiting is over. Just buy, slice and garnish.
Personally, I like it with less sugar. It not only tastes good but is a welcome relief for most guests who are fully fed up with the sweet dish. The dates can be added for sweetness.
The cooking vessel needs to be thick-bottomed. This dish requires frequent stirring to ensure that nothing sticks to the bottom of the dish which eventually gives out the burnt smell. A No No.
Milk is the base for this dish. Get it as fresh and pure as possible. Toned or skimmed milk can take a hike.
This year, following Eid was Ganesh Chaturti which is equally festive in Hyderabad. The crowds take to streets for ten days. There is a lot of dazzle in the city at the moment. And shir kurma is still going strong.
The beauty of this dish is that it  is served to and is loved by one and all. What matter is the love that goes into making it for anyone who comes to your doorstep. Nothing rich or poor about it.
Let me know if you made this dish and have some interesting twists up your sleeve. The best one I read was about adding some orange zest to this creamy pudding. It sounds nice and contemporary. But I'd dig for the good ol semiyan any day.
Please leave your thoughts and ideas for me to tinker with.