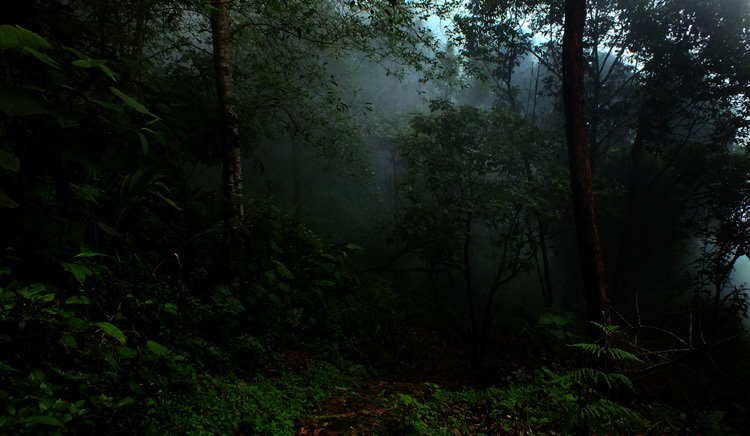 A path does go somewhere
says the unsure mind
may be a bit dark
may be lit blind
That road that always was
Un-trodden, untouched unseen
Today feels like love
Beckoning from within
Waiting to unravel, longing to reveal
mysteries of life, behind mysterious screens
How would you know what lies in there
in shades of grays and blues of greens
Truth in haze
holds my gaze
Faith beckons – come hither.
Fear, my foe, tugs behind.
How long can one withstand
The pull of this might
Like breath and light
It seems so right.
a sense of belonging,
in this unclaimed place
a sense of stillness,
in passing time.
Cloudy mist cools my core
my closed eyes,
now see more
Lets take the path
under the bough of trees
Let nature lead you
Deep within to see…
Speaks to me,
the wandering mist
gentle whispers in my mind…
Come. Seek. Find.
 
The mist there is, will always be
in wait for those crossing the line
Taking no heed, ignoring the signs
For those wander before their time.
Covered in sands of time and lore
Caressed by leaves of fallen yore
A faint trail awaits its seeker
For the seeker to seek the sought
to turn back is easy
to stay needs resolve
to take a step needs leap of faith
to go beyond is the reward
Mind reasons. Reason pleads…
Go no further this mysterious design.
For this unchartered territory
is no faith of mine.
Let me walk this road,
a path that alone is mine
Let me follow this strange voice,
a call seemingly divine.
What's to lose on this path
but of things that bond and bind,
the books and scrolls of the world
and those who ink the mind.
I stand at the threshold,
A decay of thoughts behind.
Following the call within
To leave the dead and blind
The lingering mist
Whispers again…
Come. Seek. Find.
 
A single step I take,
eons I'm hurled behind.
This path leading me forward
takes me back in time.
The calm horizon explodes
A million colors of chaos
Glowing auras, blinding sight
Clouds in trance, truce in twilight.
The fury of the raging stars
The depths drowning deep
The melancholy of unsung arias
The euphoria of promises to keep
Reality fades to visions unseen
Bodies cease, unclasping light.
Landscapes melt to mounting truths
Pasts and futures collide with might.
I stand here holding – this universe in me,
I stand here bearing – this moment sublime.
No past. No present. Future no more,
I cease to exist in measured time.
I look around to see,
Who's been walking with me.
To tell me what happened
If I am alive, dead or free.
Stranded on an unknown path
Guided by a distant call
I find self alone
witnessing my fall
No beacons. No lights.
No wrongs. No rights.
No memories. No dreams.
No Virtues. No sins.
This unlearning, a double edged sword?
This undoing, a sin or fraud?
Why did I burn to come here? Why did I need to see?
Wasn't life a gift enough? Wasn't this world my destiny?
Faint whispers came around
Familiar voices grew in sound
The end is Eternal.
The end is Divine.
This is the just beginning, my child.
Further you go, the more you'll find.
Come. Seek. Find.
TO BE CONTINUED…
(c) Copyrights Reserved.