Starry Night – Vincent Van Gogh's labor of love, struggle, despair and gloom, is one of the outstanding icons of the impressionist era. Its unmistakable blues, hues, strokes, and motion have the artists, musicians, poets, impressionists, and creative people, continually inspiredd.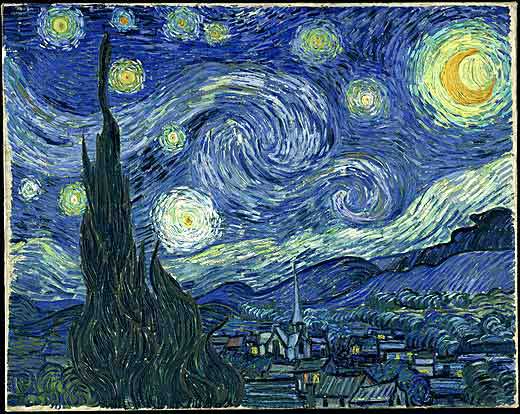 There are paintings that strike an instant chord in us. Then there are paintings that haunt us deep within. Very rarely does one come across a masterpiece that walks the fine line between real and unreal. It is a moment frozen in time that evokes the same deep emotion no matter when, where and how you see it. Van Gogh's Starry Night is one such magnum opus that touches your heart and shatters your soul.
For the admirers, every brush stroke represents a lifetime. It evokes so many emotions that one could lose oneself watching the painting. With every swish, swirl and stroke were tied umpteen emotions and thousands of words choking in the throat; with every sleight of hand was an insatiable breath.
The intensity with which this painting was made can be sensed by its admirers making it one of most powerful and sought-after paintings. And no doubt that it continues be one of the most re-printed works of art adorning millions of walls around in the world.
Vincent painted this masterpiece while he was recuperating in an asylum. More than a life-like portrait, starry night is partly a figment of Van Gogh's imagination of the place as he looks outside his window. He painted during the day, what he saw outside his window at night. It is true that impressionist paintings have much creative license and are more soul-baring. This is a classic example of deep impressionist mind at work. From the village of Saint-Remy village conveyed in the center portion of the painting, the fictitious cypress tree, the desolate and distant hills, and all have been brought together in a harmonious gloom.  Perhaps this painting was not meant to be gloomy at all. Or it may have given Vincent pure happiness and pleasure whenever he looked at it. Or maybe Vincent felt powerful energy at work that he struggled hard to express it.
The measured strokes in shades of blue, the whirly wind swirls, the soft moon and many stars… the painting is indeed magical.  Somehow, the essence of the moment gets conveyed in this painting. From a town that sleeps to the lone man who weeps, it is all felt in that one moment. As we linger along, there is more depth to each stroke as we can fathom. Wonder with how much despair each brush stroke was done.
The amazing aspect of the painting is its dynamism in spite of having the coolest colors possible. There was a lovely quote by Vincent that said – "There is not blue without yellow and without orange." And this sums up beautifully in the Starry Night Painting. The presence of the yellows, orange and beiges indeed adds life to the blue and takes it to ethereal levels.
The blues, indigos, violets, grays and beiges indeed have an immediate calming effect. But these calm strokes are fashioned in such a way that we end up following the lines. The admirer is but forced to wander around the painting, covering almost every inch of the masterpiece. One stroke leads to the other in a swirly hypnotic fashion. There are no pointed edges or stark silhouettes. Every stroke and shade seems to be merging with the other in the calmest manner possible. This makes me wonder – what was going through Vincent's mind with every brush stroke and every time he chose a new shade or color from his palette. Why did he place the Prussian blue next to dark blue? Why did he choose the soft swirls and curls? Was he avoiding conflicts within? Was he calming himself with the sweeping brushstrokes? Were his eyes choosing to rest on the calming blues and violets? Was he seeking hope in the soft creams of the moon and the stars? Is this how he saw stars, probably with misty eyes? We don't know. We can't guess. We can't imagine either.
To understand his paintings and the underlying emotions, it helps to study the chronology of events in his lifetime that coincided with his paintings. To know more or to imagine more about Vincent Van Gogh, one must read Irving Stone's novel – Lust for Life – which chronicles Vincent's journey from youth, priesthood, to supposed lunacy – while he painted all along. We can feel his melancholy, despair, hope and gloom when we see his letters to his brother – Theo Van Gogh. This book, though a piece of fiction, contains good information on his paintings, his attempts to fit in, to seek truth, the impressionists era of paintings and arts, and his beautiful relationship with his brother Theo, who never gave up on him and more. The novel has all the elements of being a best seller – but would still find a place in your heart for Vincent took the road less travelled and had all within him that he could never convey enough.
Sometimes we wonder how Vincent could have possible brought these ethereal paintings to life. Many people have debated about the metaphorical allusions in his paintings. Somehow most of his celebrated paintings seem to bring out the same trance like feeling. Did Vincent see ahead of his time? Was he guided by the super natural forces? Did Vincent let his soul wander beyond the constraints of space and time? There are so many more questions that grow whenever you look at Starry Night.
There was an allusion to Vincent's imagination. His painting is being compared to actual photos of the celestial bodies in our galaxy and beyond (such as the Monocerotis star where its clouds of gas formed patterns similar to the swirls stars in Starry night Painting). The uncanny resemblance and presentation pose questions for further debate. That Vincent indeed let the natural forces guide him all along.
Here is a link for a very beautiful interpretation of Starry Night, its quality and what makes it so unique. I also came across a beautiful interpretation of starry night painting by devotional speaker Jeff Dugan who conveys to us an inspirational message on how artwork of Starry Night connects spirit and suggests that how in moment of despair, there is a tremendous message of hope.
Here is a beautiful slide set of Vincent Van Gogh's paintings set to the tune of Don McLean's  song called – Vincent:
Vincent Van Gogh's paintings convey struggle, simplicity, honesty and above all an insatiable quest to contain life. His paintings got life after his death. He did not choose to live long enough to see his admirers grow. He chose death over life.
And Starry Night, in a way, alludes to why he did so.