Summer is back with a bang. Hotter temperature, sweltering heat, dry chapped skin, endless bottles of drinking water, sunscreen, and what not. But just look at the colors that have been bursting all around. Bright and bold, sunny and striking, dear and deep. There is color everywhere. Here are some photos of the flowers blooming in the house, while the temperature continues to soar.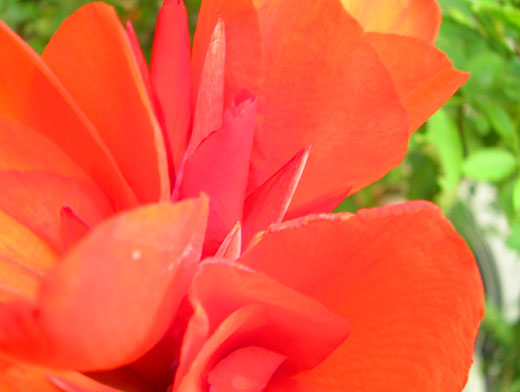 These Canna flowers are a real riot. Brightest of oranges and reds – they bloom like no tomorrow in this sweltering summer heat. Totally adapted to tropical climate, these sturdy plants can give a lot more than you can imagine. Also note the resilience of nature, midst the warming earth. I remain stunned and agape.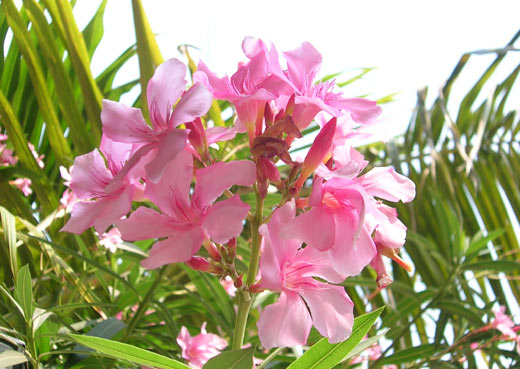 Nerium, also known as Kaner ke Phool, is another plant that blooms where no one can and like no one could. Its the safest bet you can place when you think of landscaping in India, especially the hotter parts. What a delight it is to step out of the house, anytime, to find bunches and bunches of almost translucent pink flowers. Not to mention the grit and gumption with which these grow – belying the their very tender colour. I have pink Neriums blooming in full glory. Now I desire the white, peach and other colors. Apart from the color burst, they give the best options for emergency table centerpieces.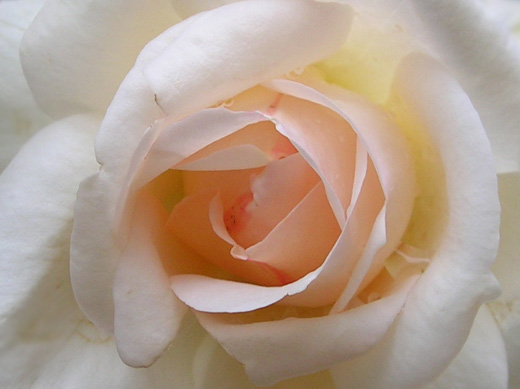 Another all time favorite – the dainty looking country rose. Smaller and less fragrant than the other varieties, these lovely flowers are the products of some remarkably sturdy bushes. Nothing seems to bother them. Come rain, heat, or drought, these bushes are pushing their boundaries like no tomorrow. Got them plenty, blooming in bunches, climbing the trellis, and making their presence felt amongst the brighter ones. What a lovely offering are these to the birds and the bees…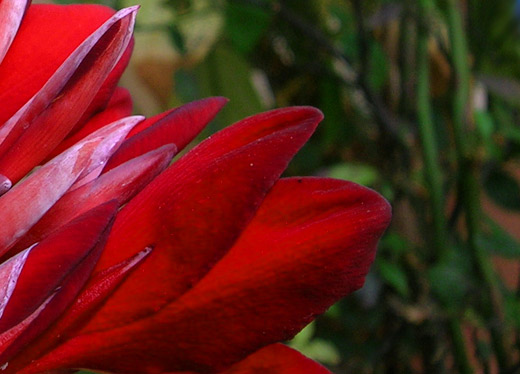 This is true. The canna buds colors are indeed this deeply deep. I was stunned. And this photo does no justice to that marvel which has just bloomed today morning. Now this is a great inspiration for Canna abstract painting.
Frangipani flowers are the ones I fall for. One of the most loveliest sights and smells that make me go weak. Thanks to the media celebration of frangipani flowers in Zen concepts and Spas, Firangipani flowers now bloom all over the world whereever they can. What a welcome frangrance as you enter your home. Try to plant them near your gate or door entrance. Sometimes, in the stillness of the night, you get the most heady frangrence ever known and you cannot ignore this one. Also known as Shivu ke Phool, Gulchin, Champa (??) in India, these flowers are used for worship in temples, and I do get upset when I find my blooms missing in the morning. But then, they bloom back again in bunches.
Blessed?
Yes, I am.
To be able to see these flowers every single day. To wake up to the heady smell of the blooms. To sit amongst these creations for an early morning tea. To be able to open the door in the middle of the night to get a piece of heaven waft by. To be able to show my kid the flowers I love the most and hope that he gets to appreciate them as he grows up. And so much more.
Summer continues to make things tough for all life on planet.
But then, there is always this hope of the balance of nature.
And that life always finds its way.