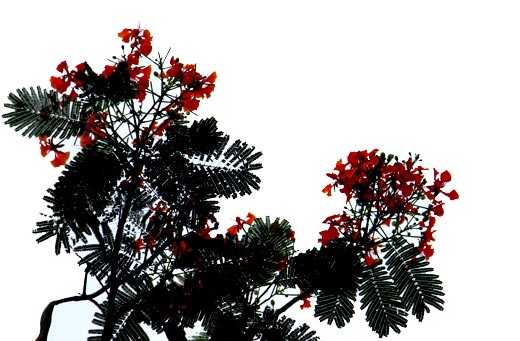 Flowers grow out of dark moments.
Corita Kent
Gone are the heat spells.
Cool winds now cooleth the soul.
It is gulmohar galore.
Everywhere.
Nothing is more uplifting than the sight of a scarlet colored flowers midst grey weather. It brings in the cheer at the fag end of summer. When the skies start to grey, the winds begin to cool and climate remains sultry, the gulmohar petals unfold brightly on the trees and fall bravely on the ground.
Gulmohar flowers announce the monsoon in wait. Its colors are a harbinger of good times to come. A respite from heat, a relief from drought, its bright colors symbolize life and the vibrancy it promises. Akin to bright vermillon and its sacred purpose, gulmohar has a reason of its own to live and thrive.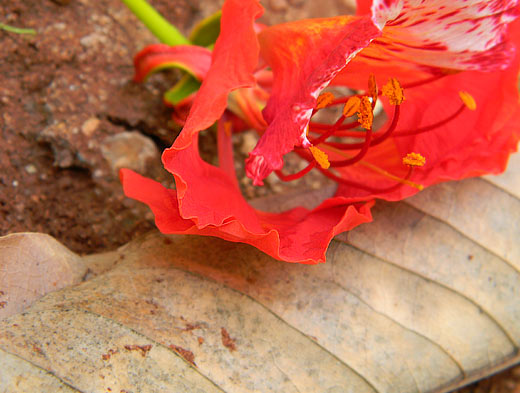 One of most beautiful sights and smells of this season is the gentle drizzle of rain, dampened earth and the wet petals of Gulmohar flowers strewn on the asphalt road. Midst the gray weather and grey asphalt lie hundreds of scarlet lives. They not only seem alive but brings everything around to life.
Where flowers bloom so does hope.
Lady Bird Johnson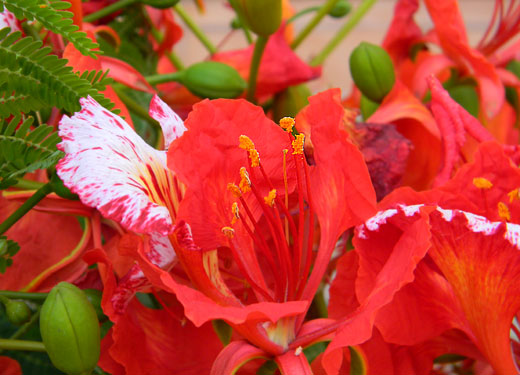 Gulmohar laden tree with scarlet bright flowers is quite a site to behold. This gentle tree with frail leaves is a common site in India. Used on pavements, roadside and gardens, this tree lives where people do. Adopted from another continent hundreds of years ago, Delonix regia aka Gulmohar has deep-rooted itself in the Indian soil and the Eastern psyche.
Gulmohar brings back a sea-tide of memories for almost everyone. Childhood spent hiding behind its tree trunks and climbing some of its stronger branches, plucking the red flowers, dismantling the flower buds to make spooky nail extensions, anthers in lock-fighting, to simply having the flowers in hands… the memories are endless.
There are always flowers for those who want to see them.
Henri Matisse
Whilst Gulmohar is a beauty to behold, its name origin is quite unflattering. 'Delonix' is derived from two Greek words: 'delos' meaning evident' and 'onux' a claw in allusion to the shape of the petals. But to see a flower as a whole is an experience by itself. Tender, feathery petals of Delonix regia burst with colors of fire. From the base of the petal to the edge, there are many shades of scarlet unparalleled in nature.
High on trees, low on bush, and even when they wither and fall, Gulmohar flowers bring in color burst wherever they are. Opening your window in the morning to the sight of bright Gulmohar flowers and green leaves is a moment of a lifetime. For some reason, it gives a lot of hope and cheerfulness. Guess its color therapy at work.
A  morning-glory at my window satisfies me more than the metaphysics of books.
Walt Whitman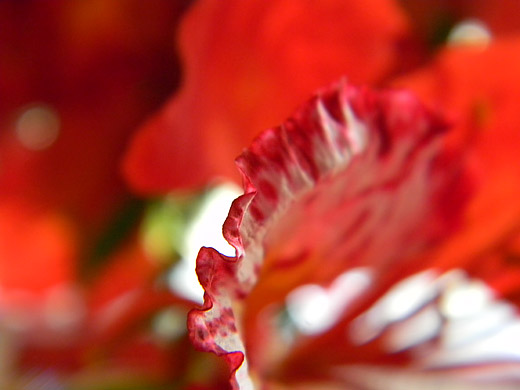 It is at the edge of a petal that love waits.
William Carlos Williams
Ever wondered why one of the Gulmohar's petal is streaked in different colors and looks different from the rest?
Botanically, it is called the upright standard petal. I'd say it is because of love.
When you live with someone long enough, you end up being like them. Same is the destiny of this petal that lives so lovingly close to the flowers inner most self. The stamens impart is characteristic colors to this petal which hugged them since birth.
These bright streaks of madness, purity and serenity are for all to see. And for those who lived with so much love in life, it just shows.
I perhaps owe having become a painter to flowers.
Claude Monet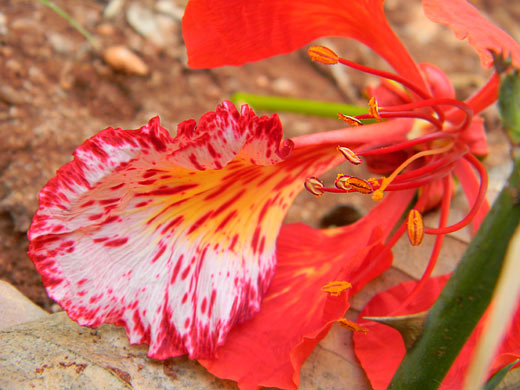 Bread feeds the body, indeed, but flowers feed also the soul.
The Koran
This flamboyant flame tree continually inspireds the poets, artists and everyone in love with any form of art. Poems' celebrating its flaming glory to painters reliving the scarlet moments in vivid strokes, this flaming flower holds and beholds many untold stories.
We can only discover the hidden secrets of nature in time with patience and love… only to discover that every little thing is a part of the bigger grand plan. Not just the artists and gardeners, the friends of the earth, medical fraternity and the environmentalists are waking up to see the benefits of this flower.
There are reasons for the flowers to bloom in their seasons.
A lot has been written about the medicinal uses of gulmohar in many ancient texts of Ayurveda and Siddha. But to see its real medicinal use in day-to-day lives, one must observe the remote rural India where this tree is indispensible for both humans and animals. A herbal remedy for rheumatism, flatulence, anti-inflammation, to psychosomatic medicinal uses, its uses are plenty. Indeed, it a piece of good-looking medicine.
Gulmohar Flowers for Eco-friendly Colors and Fashion
Gulmohar's reds are the colors to die for. Highly individualistic, its flaming hues continue to inspired photographers, artists and fashion designers. For the eco-friend bandwagon, there are attempts to extract natural dye from these flowers. It is believed that the stamens of Delonix regia have a potent pigment that imparts colors to some vegetables and fruits such as bell peppers, saffron, corn, etc. Scientists in India have succeeded in their attempts to extract natural dyes from different parts of gulmohar flower by combining them with other organic substances such as turmeric and alum. It is only a matter of time that the reds of our clothes would be powered by the gulmohars.
Gulmohar for Going Green
Gulmohar is a low-maintenance tree and an ideal choice for lining the roads, avenues, gardens and parks. Because of its use for ornamental purpose, Gulmohar contributes in environmentalist's efforts related to soil conservation, reforestation of difficult sites, soil improvement, and in protecting the footings of rivers and channel banks.
All the flowers of all the tomorrows are in the seeds of today.
Indian Proverb
If you are wanting to plant a new tree in your garden, backyard or line the avenue – think of Gulmohar tree. Take care of the sapling, and as it grows it needs less/no maintainece.
When it blooms, you will find that earth, indeed, laughs in flowers.