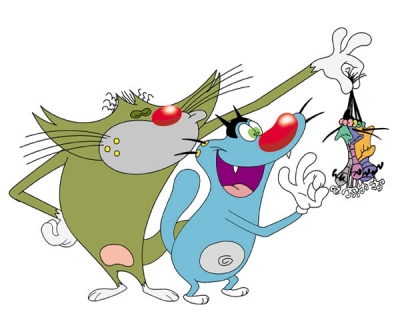 Parenting comes with its share of occupational hazards. One of them is the cartoon series – Oggy and the Cockroaches (OATC), which my little kid loves to watch. Having grown up watching Tom and Jerry, this is perhaps the next most irritatingly hilarious cartoon show on TV these days.
Given the current crop of cartoons full of violence, mythology, evil, and super-power-wars, that are so prevalent on TV and do more harm than good, I find these episodes more humorous and entertaining.
The protagonist of the show is an ultra-domesticated, rotund, blue male cat called Oggy. He loves to spend his day dusting, cleaning, mopping, watching TV, growing his vegetable patch and live a peaceful life. Dwelling in his ventilator and pestering him endlessly are the three roaches of varied colors.
Making his life a living hell are the 3 cockroaches – Marky, Joey and Dee Dee. Oggy seems to have a love-hate relationship with them. All the episodes of OATC deal with the 3 roaches troubling Oggy in different ways.
And living (mostly) with Oggy is his gregarious cousin, an alpha male cat, called Jack. He loves Oggy but has his own interests in life. He is definitely not into spring cleaning and watering the plants, but comes to Oggy's rescues from the cockroaches. He usually ends up complicating the game as he is always building strange contraptions and concoctions to deal with the pestering cockroaches. And since he is short tempered male, the cockroaches love to take him for a wild ride. And Oggy keeps fighting back, sometimes with the help of Jack.
My favorite series is where Oggy starts to practice non-violence and goes about chanting mantras and tries to control himself while the cockroaches do their best to instigate him.
Another hilarious character, though with very less screen space, is Oggy's sister Monica. An athletic, forever skating, master of all sports and arts, Monica visits Oggy occasionally. Jack goes head-over-heels for her and takes up over many sport forms to impress her. Oggy is extremely fond of his sister and cannot stop bragging about her talents and skills. How familish!
I would really love to see how the creative team behind OATC gets tighter to form a story board and discuss the nuances, scene by scene. I would love to see how they conjure up a story out of nothing and breathe life into these hilarious characters. There is hardly any spoken conversation and the show mostly relies on visual slapstick humor to keep going.
If you love Tom and Jerry, there are fair chances that you will like this one too. Provided you let OATC settle into your system. Having watched almost most episodes it is hard to remember when I have migrated to OATC.
Like Tom and Jerry, it is a catch-chase-beat game. It involves violence (LOL). While T&J was all about kid fun, OATC take it to the next level. Everything happens in extreme. Its all about mega-multi-phenomena where things get blown up and exaggerated to extremes.
While Tom hits the roof, Oggy hits the moon. While Tom digs his grave, Oggy digs to reach the other side of Earth. While Tom or Jerry indulge in suggestive romance once in a while, Oggy and Jack offer some visuals that do not seem like kids cartoons. While Tom & Jerry have predictable house, Oggy's house changes as per the needs of the scene – with his staircase morphing into a roller coaster, house rising to multiple levels, patch or garden extends into acres, an open tap not only fills up the whole bathroom but drowns the planet. While Tom & Jerry drop household things on each other, Oggy goes to the extent to dropping buses, submarines, aircrafts and more. There is never a dull moment or I-know-what-will come-next in these episodes. But they also test my patience at times.
When I say hilarious, I mean this:
• When Oggy's refrigerator is left open, it not only freezes his room but covers the continent in ice – aka the Day after Tomorrow way.
• Troubled by cockroaches, Oggy and Jack are stranded on an iceberg, only to be hit by the RMS Titanic.
• The stink from cockroach's sock not only kills a few people around but also makes few planets in the solar system to pass out and drop down of their orbits, like apples falling down from the tree.
• The roaches fool Oggy into thinking that HE is pregnant. And Oggy becomes an emotional fool, only to realize the folly later.
And here is a sample of the most hilarious episode. Moreso because of the concept, hippie movement, background score with sitar, and more. Enjoy.