The State Gallery of Fine Arts in Hyderabad, is hosting its group artists exhibition for March 2011, titled – Expression of Colors. The inauguration of the event was a great opportunity to interact with many artists, and to put a face on some of the well-known names.
Twenty five artists, both seasoned and budding, are participating in this event showcasing their works that ranges from portraits, landscapes, abstracts, sketches, drawings, and more. The best part about this event is the medley of styles, subjects, approach, and techniques that one can see – under one roof. Many works in many media hang on the stark gallery wall; each one has a story to tell.
For this show, I have included my landscapes, A New Beginning and A Sense of Void that Fills Me. There is no rational or logic for choosing them for this show, except that these were my recent works signifying the route I had taken a while back…. knowing that the journey never stops.
A New Beginning:
A Sense of Void that Fills Me:
The inauguration of this event was preceded by a talk on art by Jacqueline Lima – a professor, curator and an artist herself on the subjects and paintings close to he heart. Her illustrative talk focused on her paintings, inspiration, techniques, spirituality and more. Here is Jacqueline with one of my-her favorite: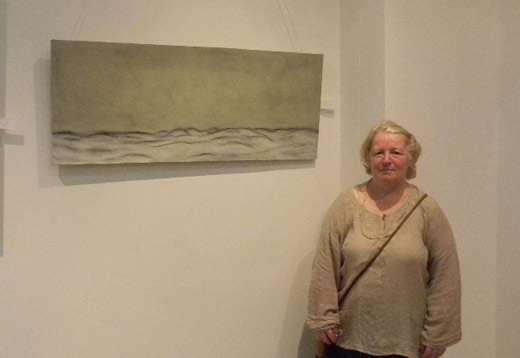 Here are two of the paintings by other artists whose works stunned and impressed everyone around.
I hope to update this with works by other artists soon, who had participated there. It is very hard to absorb every artwork in one visit. More to follow….
The event will be on till the end of March 2011, in parallel to other camps and art shows going on in the premises.